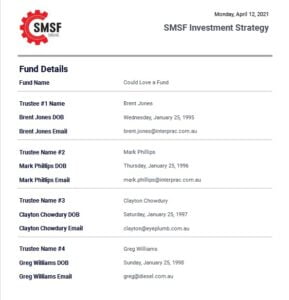 We have developed an interactive Investment Strategy Preparer for Trustees. It was built by an experienced SMSF advisor and we believe it helps trustees work through many of the common concerns which trustees should address. You can start a strategy yourself or you can forward the link to your client. We believe that either completing your own or using our investment strategy preparer is time well spent in the ongoing management of the fund. See our example strategy or go here to start your strategy or here to refer a client.
The points covered off in the strategy are:
Fund Particulars
Age & Retirement Considerations
Member Phases & Considerations
Member Insurances
Fund Liquidity
Fund Investments

Income, Capital Growth & Capital Protection
Asset Choices & Risk Considerations
Our services continues to grow as our client base needs grow. If you need a hand with something, please speak with us.