NTAA Corporate
Posted on 05 May, 2016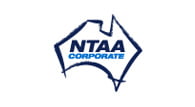 NTAA Corporate is an Incorporated Legal Practice with in house solicitors to oversee the establishment of and variations to Self Managed Superannuation Funds.  NTAA Corporate also specialises in the establishment of Companies and Trusts.
NTAA Corporate is one of our important partner firms, and has been providing excellent products and customer service to NTAA members since 2003.
The prices are excellent, the service second to none and the product is of very high quality.